Carbohydrates aren't all the same. Each type of carb impacts blood sugar differently—and that's where the glycemic index, or GI, comes in. The GI is divided into low, medium, and high groups that express how quickly or slowly a food with carb content raises blood glucose. Knowing those groupings may help you learn how different foods affect your blood glucose levels so that you can make smart choices about the foods you eat.
Below, you'll find an easy-to-read "traffic light" approach to foods based on their GI scores: "green" foods raise your blood glucose the least and "red" foods raise your blood sugar the most. Knowing the GI scores of food can help with meal planning. Choosing foods that have a low or medium GI is best. If you want to eat a food on the "red" list, you can combine it with food from the "green" list to help balance the meal. This chart was inspired by a study from Massachusetts General Hospital in Boston in which researchers labeled cafeteria foods with these color-coded labels and found that, over a two-year period, the labels led purchasers to consume fewer calories, with most of the decrease due to a decline in the purchases of red-labeled foods.
Take a screenshot of this color-coded chart and save it on your phone so you, too can make more informed choices while you're food shopping!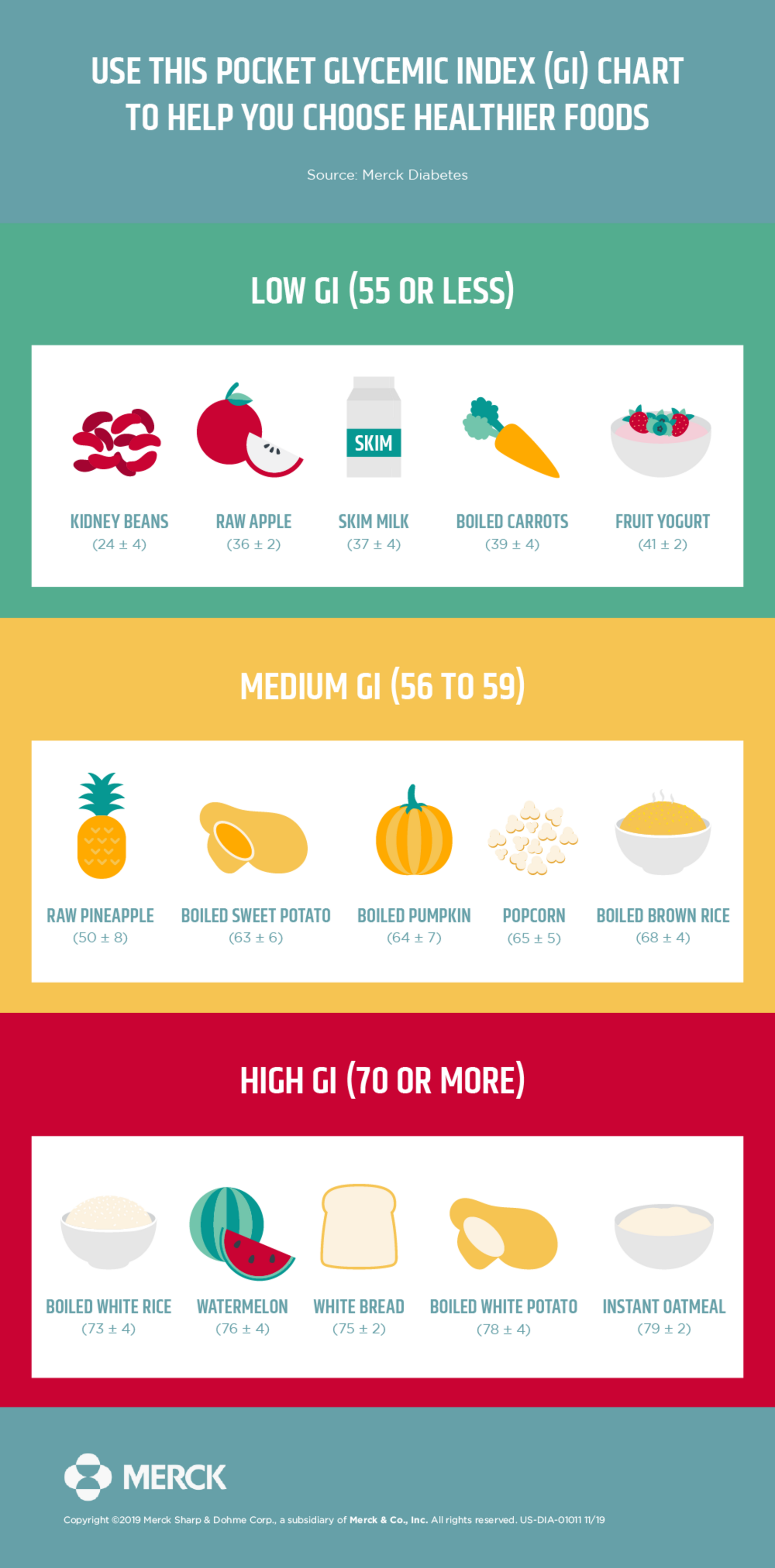 By having a helpful pocket guide, you can be empowered to make quick and informed food decisions while you're on the go. If you'd like to learn where other foods on the GI rank, this page on the Harvard Medical School website is a good place to start.
Don't forget to check out our tips for making better fast food selections and deciphering Nutrition Facts labels as you continue educating yourself about healthy food choices as part of your type 2 diabetes management plan.
US_DIA-01011